TOPEX WELCOME TO ┃Booth No : 6. 2 F104
Postview: 70 Date:March 30, 2022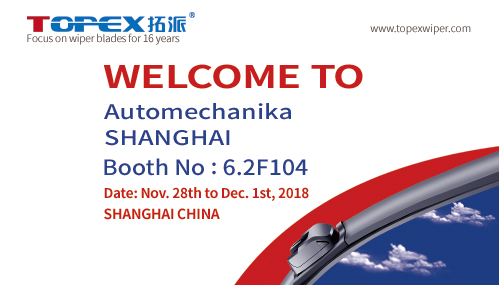 Dear Sir / Madam :
We sincerely invite you and your company representative to visit our booth at the Shanghai National Convention and
Exhibition Center from November 28th to December 1st .
At the Frankfurt show, Topex's new wipers are now available, and we have named them the T- A8-S series .
Top ten national brands in China's wiper industry .
Patent: US and EU patent certificates I applied for more than a dozen patents in China .
Topex has always been committed to becoming the safest wiper in China .
I look forward to seeing you at the conference .
We hope to establish long-term and friendly business relationships with the future of your company .
Exhibition Center : Shanghai National Convention and Exhibition Center
Booth : 6.2F104
Date: November 28th to December 1st.
best wishes .    
XIAMEN TOPEX AUTO PARTS C0., LTD .