Topex wiper Raiders, the new driver seconds to understand!
Postview: 176 Date:March 30, 2022
Rainy day driving
Line of sight can be greatly hindered
Wipers are particularly important.
Is not it only possible to open the wiper switch every time it rains?
Wiper lever on the various icons are what does this mean?
Do not worry
Let Topex "paipai" to tell you how to use this wiper in the end?
①. Find the wiper switch where.
In general
Wipers use the control lever to operate
Usually set to the right of the steering wheel
You can dial, rotate and other operations
Of course, some models will be more special
Position the wiper lever to the left of the steering wheel
Integrated with the light lever
This design is common in pregnant car models
Because you want to leave the right position for the shift lever
It usually appears on American cars and some German cars, and I believe that friends in the United States and Germany feel empathy.
For example, most of Mercedes-Benz brand models.
There are many German Mercedes-Benz too, such as R, E, S, ML, GL and so on.
The market includes BMW 7 Series, Benz S-Class, R-class ML-class GL-class series.
More important applications in the field of commercial vehicles.
②. Wiper usage
Wiper open is not over, adjust the speed is the most important.
If your vehicle is equipped with induction wipers
Then when it rains, it will automatically turn on the wipers
It can also be turned on by pressing the "AUTO" key
Rain sensor will be based on the amount of rain on the glass
To control the wiper speed.
If you need us to manually adjust the wiper speed
When the rainfall is large
Should dial (or turn) Wiper lever
Increase the wiper frequency
have to be aware of is
If the rainfall is too high
Wiper frequency has been adjusted to the highest
Still can not guarantee a clear vision
Then continue to drive at this time is very dangerous
It is recommended that you park your car to the side of the road to wait for the rainfall to decrease
And open the fog lights and hazard warning flash.
Some car models rear window wiper is also necessary.
For example: Topex rear window productT-300 Rear Wiper Blade
*Multi-fit Rear wiper blade
*Good quality wiper clip
*10 adapters fit for 99% cars.
https://www.topexwiper.com/t-300-multi-fit-rear-wiper-blade/
https://www.topexwiper.com/blogs/page/4/
Topex paipai Tips
Do not forget to turn it on when it rains
General SUV, hatchback, MPV and other models
More equipped with wipers.
③. Wiper lever can also clean the headlights
If your car is equipped with headlight cleaning function
Then you can wipe the headlights wiper lever
In general, when turning on the headlights
Open the glass of water spray wash function
You can clean the headlights at the same time.
After wiping knowledge for everyone
How to choose a good quality wipers is also very important
Let's introduce you to paipai : "Topex Multi-function wipers"
                                   T-X8-S
                               Multi-function adapter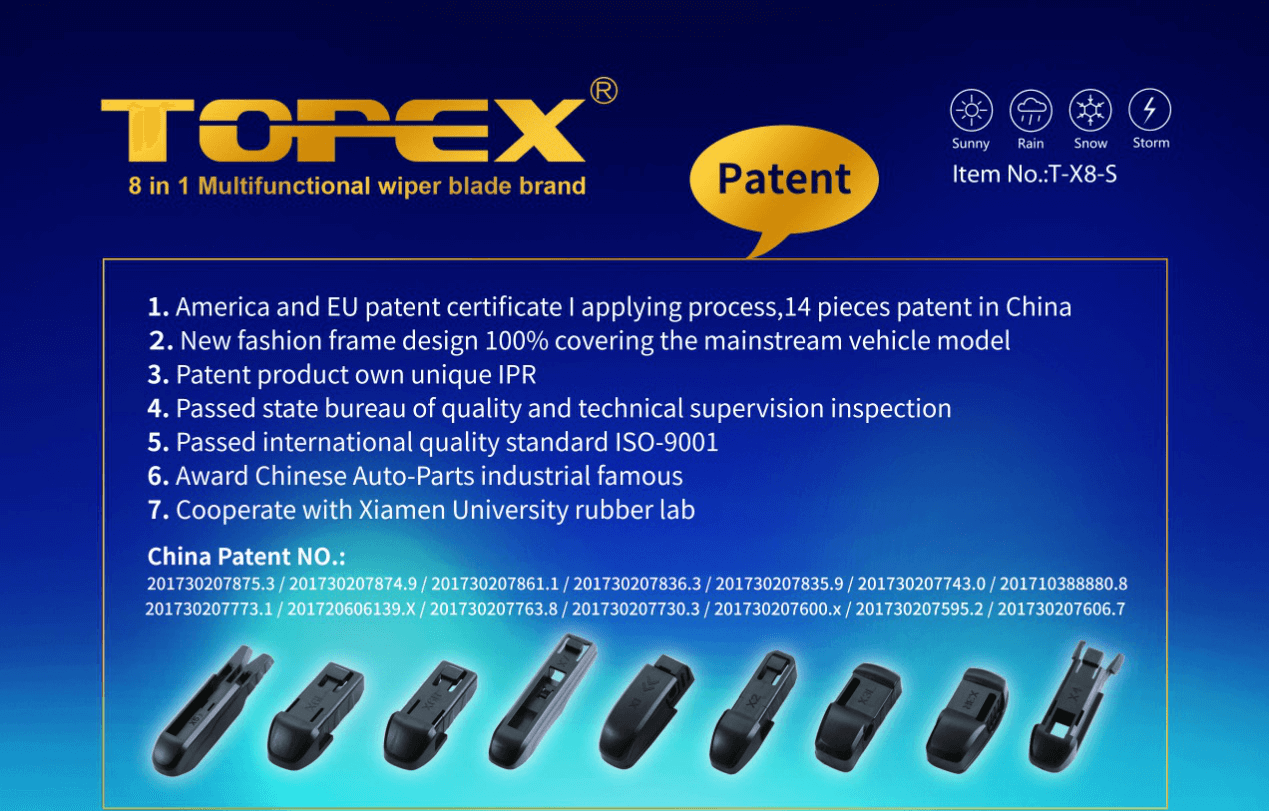 Multi-function interface corresponding wiper arm type
Topex high-quality wiper protection
Topex strives to be the safest wiper in China.
1.German ink lubrication, the use of noise-free, providing long-term protection.
2.Imported rubber material, perfectly fit the glass surface, very clean and smooth performance. High-end imported rubber material, durable guarantee.
3.Wiper structure optimization design, even distribution of thousands of force points, to ensure that the wiper strip is not deformed.
4.Combined with aerodynamic design, make full use of the wind pressure in driving, to ensure high-speed operation of the wipers is still close to the glass.
TIPS:E-mail: jacky@topexwiper.com
Web: https://www.topexwiper.com
TOPEX CLEAN AND SILENT!