Three-section soft flat /metal wiper blade ( 4 in 1)
Postview: 196 Date:March 30, 2022
〓  Product details  〓
Type: Car Wiper
Model: T-U190
Product: Multi-fit Hybrid wiper blade
 Wiping angle: 180° (°)
Motor rated voltage: 12/24 (V)
Wiper range: overall wiper
 Material: Rubber
Origin: Fujian
Fit model: Applicable to the Volkswagen CC Sagitar Magotan Tiguan Tourareg Lavida wiper
 ☞ ☞  Interface real shot renderings
Patent: Germany & USA Patent
Specifications: 4 in 1 adaptor
Hybrid frame Easy to install
Spoiler: ABS making with metal frame inside
Rubber: Natural rubber with graphite and stainless steel inside, Graphite coated 100% natural rubber
Joint: high carbon steel making
Adaptor: Multi-function adaptor, fit 99% cars.
Body: High carbon steel fixed the rubber, link with electro welding in both ends
Certificate:  ISO9001:2008, TUV, SGS approval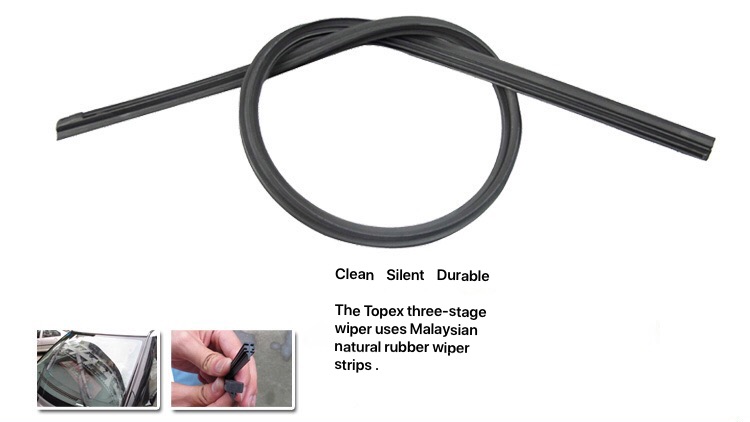 〓  Product advantages 〓
Suitable for a wide range
The Topex three-stage wiper features a versatile interface that fits 99% of the models and is easy to install.
 No Jitter  More Fit
Many wipers will shake when they are used. The main problem is an uneven force on the wiper. The Topex wiper has a three-section soft flat + metal design, which is evenly applied and more conformable to the glass and anti-jitter.
Multi-clip fit for 99% of cars
Plastic cover, heat & cold resistant, age resistant ametabolic.
The flexible high-carbon steel plate design can be applied to a variety of different curvatures of the windshield. lined stainless steel shrapnel makes the wiper more stable.
The latest high-performance rubber formula can work well in different climates of the world.
Rubber surface with Teflon treatment resists ultraviolet radiation and noise.
TOPEX | Wiper Blades <  Hybrid Wiper Blade  >
Multi-fit series hybrid wipe blade > T-U190 (4 in 1) Multi-fit Hybrid wiper blade
Select the wiper and select topex.
⇒ You are welcome to send us an email to know the latest information about wipers. If you are interested, we will send you the latest catalogue, or free samples, or even the gifts you asked for. There's a big surprise waiting for you.
XIAMEN TOPEX AUTO PARTS CO., LTD
We are now looking for Global Distributors, Welcome to cooperate with us!
TEL: 86-592-2918292 ,6388105
E-MAIL: jacky@topexwiper.com
WEB: https://www.topexwiper.com
Email: jacky@topexwiper.com
Website: www.topexwiper.com